The European Union can become a bigger player on the global level through its power in trade and reputation in mediating between conflicting parties, at a time of tension in the Middle East, President of the European Commission, Ursula von der Leyen, said  in Zagreb.
Enhancing Europe's influence consists of several aspects. I refer to trade, to defining processes and standards, for example, as the EU it did with introducing the General Data Protection Regulation (GDPR) which the world then followed, von der Leyen told a press conference in Zagreb's National and University Library.
I think that we must not forget that violence can only be stopped by returning to the negotiation table. Violence always occurs when there is an absence of dialogue, she added, underscoring that the EU has a great reputation as a good mediator between warring forces.
We will be of key significance when new relations are built, she concluded.
Prime Minister Andrej Plenković informed the press that High Representative of the EU Josep Borrell and Croatia's Foreign and European Affairs Minister Gordan Grlić Radman had left for Brussels to attend a ministerial meeting to discuss the latest developments in the Middle East.
Defence Minister Krstičević Meets with EU Foreign Affairs and Security Chief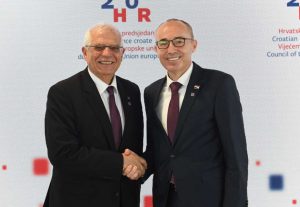 As part of a visit by the EU College of Commissioners to Zagreb, Croatian Defence Minister Damir Krstičević met with EU High Representative for Foreign Affairs and Security Policy Josep Borrell on Friday, the Defence Ministry said in a statement.
It was the first meeting between Krstičević and the new EU foreign affairs and security chief, at which the Croatian minister presented the priorities and activities of the Croatian EU presidency in the area of defence and security.
Krstičević highlighted four key priorities: further implementation, consolidation and coherence of the EU defence initiatives (PESCO, CARD, military mobility and the European Defence Fund), strengthening EU-NATO cooperation and transatlantic relations, strengthening the research dimension of defence with emphasis on the role of small and medium-sized enterprises, and strengthening EU efforts with regard to security and defence in southeastern Europe.
Borrell wished Croatia and Krstičević a successful EU presidency and expressed his satisfaction with the meeting.
The meeting focused on current security challenges in the Middle East and future joint cooperation, specifically within preparations for an informal meeting of EU defence ministers scheduled for March 4 and 5 in Zagreb.
Krstičević also announced that as part of the Croatian EU presidency a conference on EU-NATO cooperation, co-organised by the Croatian and German ministries of defence, would take place in Split.