In the first six months of this year, JANAF d.d. generated total revenues of HRK 377.9m, which is almost 5% higher than planned. Operating revenues account for 99.5% of total revenues in the current period.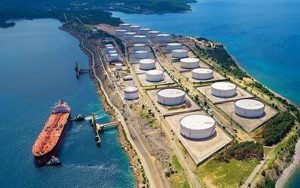 In the first half of this year, JANAF d.d. realized gross profit in the amount of HRK 164.8m, while net profit amounted to HRK 135.1m. Revenues from the Company's core business, oil transport and storage of oil and oil derivatives, amount to HRK 371.1m and are higher by 1% than revenues generated in the same period last year and by 4.4% than planned. More than 62% of revenues from core business were generated in business with foreign customers, which confirms the company's export orientation. In addition to transporting oil for many foreign and domestic customers, JANAF derives almost 50% of its revenues from the storage of oil and petroleum products in strong competition in the international Mediterranean spot market.
The Company's financial indicators show above-average values ​​- EBITDA rate 71.18%, economy ratio 1.76 and current liquidity ratio 8.74.
In the observed period, the company invested almost HRK 69 million in storage space, pipeline system and surveillance, management, safety and protection systems. In line with the development of a new business strategy based on the diversification of business into a green economy and low-carbon energy transition, we continue to consider projects in the field of renewable energy sources, as well as possible cooperation with potential partners.
"Achieved record business results this year are an indicator of quality management decisions and a good direction and business strategy. The continuation of the positive growth trend of revenues from core business was achieved despite unfavorable market conditions related to oil storage, of which we have more than 40% of revenues. However, with our proactive approach in the past period, we have overcome unfavorable circumstances on the oil market and are constantly increasing revenues from oil transportation and storage of oil and oil derivatives. The results of such an approach are stable cash flow and above-average financial performance indicators. We place great emphasis on business diversification into a green economy and low-carbon energy transition, ie on the transformation of JANAF into a low-carbon energy company, and we will achieve this by developing and implementing a new long-term development strategy until 2050. We have a clear mission and vision when it comes to running a business, we have ensured the stability of management with the growth and development of the company, so we can hope to continue to achieve good results in the future. Achieved business successes are not only crucial for JANAF, but also for the whole country, given the strategic importance of the company for the Republic of Croatia and the fact that JANAF is an indispensable part of Croatia's energy independence, "said the Management Board of JANAF d.d. led by the President of the Management Board mr.sc. Stjepan Adanić and Member of the Management Board Vladislav Veselica.