The year 2022 started quite good with Red Dot Design awards for 7 of our products. Some of them were launched recently and one that we are looking forward to launch in Croatia, Slovenia and Bosnia and Herzegovina in June – Triflex HX2, battery‑powered vacuum cleaner, says Josef Asböck Commercial Director Miele Croatia, Slovenia, Bosnia and Herzegovina. In many countries Miele is the most coveted brand in its branch of industry. In its German home market, Miele was even voted 'best brand ever' across all product branches.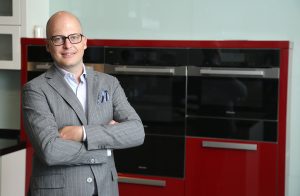 1. What secludes Miele apart from the competition?
— In Miele we are driven by our brand purpose to create delightful experiences everyday and everywhere. We always aim for the best – we create premium, desirable and trusted solutions for our products, employees, planet and performance. For more than 120 years, we produce premium products designed to last 20 years. Each appliance is perfected in every detail so we can offer our consumers the ultimate reliability. We create high quality solutions and make sure to be mindful of the environment, because longevity is the ultimate sustainability. This is why we chose "Immer Besser" as our mindset and this is what secludes us from our competitors.
2. How much was the business affected by the Covid 19 pandemic? What do the numbers show?
— Miele has been able to maintain production at its various locations at almost customary levels in 2020 but unfortunately due to the bottlenecks in the supply of outsourced componentry we were too at times increasingly faced with the problem of keeping production going. But regardless, the sales figures show a positive trend – In the 2020 fiscal year, the Miele Group achieved sales of € 4.5 bn, 6.5% more than in 2019 and in 2021 Miele Group recorded sales of € 4.84 bn worldwide which is 7.5% up on the previous year, which shows a sustainable growth. An exceptional economic situation on the domestic appliance field generated a strong tailwind: consumers had to stay at home much more, and instead of spending money on travel and restaurants, they are investing in their homes. This shows once again that trustworthy brands and exemplary quality, rate highly with consumers, above all in times of uncertainty. As Commercial Director, you are responsible for the markets of Croatia, Slovenia and Bosnia and Herzegovina.
3. How much business in these three countries are different and in what way?
— When we talk about Croatia and Slovenia which are members of the European Union, and Bosnia and Herzegovina, we must be aware that these three countries are different regarding to their socioeconomic level. The purchasing power has a high say when a consumer, a family, has to think about their basic living expenses. Miele quality is well known and interest for our appliances is high, especially in Croatia and Slovenia, which markets are growing steadily. In Bosnia and Herzegovina there are a few hot spots which stand out like Sarajevo, Mostar and Banja Luka so the potential is there.
4. What does Miele, as an employer, offer to its employees?
— As a family run company our employees are very important to us and we are trying to maintain that relationship even today with around 22,000 employees worldwide. We nourish employee-focused corporate culture as well as continuity of values, goals and leadership. Looking in the future, we are committed to promote a fluid flow of ideas and enable networking across the entire organization. We encourage the engagement, enthusiasm and performance of all our employees wishing to highlight the importance of customer orientation, openness and creativity. Because each and every one of our employees, our colleagues are creating a future for the Miele brand and the Miele company.
5. As a German brand you are a synonym for quality. How demanding are consumers and how much do they know and follow all the novelties that appear on the market in all segments that you cover?
— When you produce premium products, consumers have high expectations not only for our products but also for services we offer. Our consumers pay premium prices for a premium product, brand and service experience. They expect and deserve these experiences along the entire customer journey. Because in the eyes of our customers, there is only one Miele. COVID-19 pandemic accelerated the rise of the digital economy redirecting a lot of people to the Internet and social media. This is where Miele recognized as a leader in innovation and sustainability.
6. What novelties can we expect from Miele in the coming period?
— As I mentioned the year 2022 started quite good with Red Dot Design awards for 7 of our products. For autumn we have planned an absolute highlight in the kitchen appliances category, but at this time I won't disclose which type of appliance I am referring to – you will have to discover it for yourself. Regarding other activities, we are planning to invest in further growth and development of our brand in Croatia, Slovenia and Bosnia and Herzegovina. As a leading manufacturer of premium appliances for cooking, laundry care and floorcare we find that consumers turn to us for a premium shopping experience through our own direct touchpoints in which we offer them not only premium advice but also the experience of Miele appliances, throught our appliance presentations, coolinary workshops and successful collaborations with our partners for example with famous associations like Jeunes Restaurateurs. We plan to ongoingly strenghten and activate our Miele Experience Centers in Zagreb and Split with exciting events, and welcome our customers to experience Miele brand world with all their senses.