AbbVie is a global biopharmaceutical company, conducting its' business across the world, including the Adriatic Hungary region, consisted of 3 countries present with an affiliate (Croatia, Slovenia, Hungary) and 6 countries where the business is done through local partners and distributors (Bosnia and Herzegovina, Serbia, Montenegro, North Macedonia, Albania, Kosovo).
The company has been a global leader in exploring and bringing innovative health solutions to patients. AbbVie has been present in the region since its' foundation in 2013 and, in the dawn of the 10-year anniversary, we wanted to hear some thoughts from the General Manager of the Adriatic Hungary region, Ljubiša Mitof-Višurski.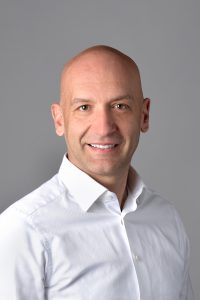 Firstly, what does it feel like working in such a diversified region?
In one word – challenging. Starting from general political instability, all the way to the health care system in all countries being constantly under hard focus of the public, especially when it comes to financing. Then there is the case of three countries being EU members, meaning that approval of any new products is practically centralized, while non-EU members have their own regulatory framework for introducing new drugs into the market. Internally, this is a highly complex process for us. Our products are state-of-the art and positioning them within low-middle income countries is one of the challenges AbbVie faces in the region.
From a leadership position, when it comes to regional disarray, this is especially sensitive during the COVID-19 pandemic. Our countries' dispersion makes the management system more difficult, as the leader is not able to be maximally included in business on all locations. On the other hand, you need to be well-informed of the situation, environment and happening, to be able to make the correct decision. In such a case, it is crucial to have a reliable and confident management team.
I do get the feeling sometimes, that I am managing a micro-cosmos, full of different synergies, diversity, and challenges, that country managers responsible for a single country do not face. They are dealing with one regulatory field, one Ministry of Health, one registration agency, while here, you need to take care of different planets, across your micro-universe, where each of them has very different needs.
2.How would you comment on the upcoming 10-year anniversary of AbbVie, both on a global and on local scale?
Throughout these almost 10 years, AbbVie has gone through multiple transformations. Starting from the construction of our own identity in the market, across new products that were introduced up to the Allergan integration in the last three years. The response to these new environments was, globally and locally, very successful
We are leaders in immunology and have strong impact in oncology, virology, neurology, eye care and aesthetics. However, the health care systems in the whole region are still somewhat slow and under constant financial pressure from the governments.
3. As a leader, what do you value the most in business? Also, what do you think people value the most when it comes to you?
What I find most valuable is honest feedback. Sometimes, people tend to adjust the truth and make it more convenient, because of the great risks in the business. However, the most successful, in my experience, are those who are not afraid to tell the truth, even when it is not the most pleasant.
When it comes to me, honesty and my openness may be something people value the most. At least, I hope so. But there is something else that people notice and tend to highlight – I take a lot of responsibility for my work. If I take some work on myself, I will be sure to do it. Also, I like to be straight to the point, with no excessive details covering the main substance.
4. What would be your wish for the next 10 years of AbbVie?
Besides continuing to do great work, I hope AbbVie will reach key milestones that were set in gastroenterology. Hopefully, we will expand our reach in rheumatology, dermatology and oncology as well. Although the years to come will yet show the true impact of COVID-19 on health care system, I want to believe there will be no consequences for the level of health care currently provided to our people. This brings me to the big health care picture.
I truly hope there will be some global changes as well, where the price of health will not be observed through numbers and calculations, rather through ensuring that people who need modern medicines will have them available and accessible. This would be my desire for our next 10-year anniversary.

The opinions and / or conclusions contained in this paper do not necessarily reflect the opinions and / or conclusions of the client of this author's work, the company AbbVie d.o.o.