Under the "Peace, Love and Communication " slogan the twelfth edition of Weekend Media Festival will bring the spirit of the legendary Woodstock. The largest media festival in the region will prepare an homage to the unforgettable American festival through discussions of the thought-provokingly fast transformation of the media industry and its dedication for the freedom of decision.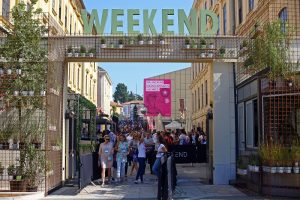 As society changed in the turbulent Sixties, and the time of Woodstock, we see the world of media and marketing change rapidly before our very eyes. The changes are more exciting than ever, and we are witnessing an extremely lively media transformation.
"Netflix has induced a number of new streaming services, and the production of quality content is more vivid than ever, while sports have become the only content that requires a live broadcast which, in return, resulted in an incredible increase in price. Even though they are going through an unstoppable growth, Facebook and Google are on the defense of techclash, Apple has entered the media world, agencies are transforming in an intense speed, even though it is not quite clear what they're transforming into….this Weekend will continue to discuss in great detail one of the more interesting industry transformation. There is so much material. "stated Nikola Vrdoljak, Weekend Media Festival Program Director.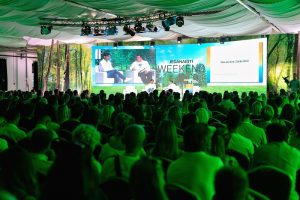 An entire decade of social turbulence and general rebellion culminated at Woodstock. Almost half a million people on a muddy field, food and water shortages, blocked roads, psychedelic drugs…. but history remembers it as a festival of peace, love and music that has shown it is possible to change the world for the better.
"When we look at current social topics in Croatia, on the fiftieth anniversary of Woodstock, we need the main message of the festival now more than ever: Peace & Love. That is why the 12th edition of Weekend Media Festival will bring the spirit of Woodstock into the new millennium and become a festival of peace, love and communication. ", explained Tomo Ricov, Weekend Media Festival Director.
Festival preparations are in full effect. Early bird festival passes are on sale and can be purchased for a low price of 1.250 HRK+VAT until May 1st. This year, the festival introduced new Weekend Packages which enable a reservation of both accommodation and festival passes. All marketing experts can apply for the eighth edition of BalCannes, and of course SoMo Borac will present the best regional digital awards.
Besides provocative and constructive discussions on trends in the media industry, the largest regional communications festival is also known for its parties. This year, the program will focus on the spirit of Woodstock, the times when music became an artform and a means of resistance. We hope to see you in the old tobacco factory in Rovinj.