The Embassy of the Republic of Slovenia in Zagreb has celebrated Slovenian Food Day with a traditional Slovenian breakfast. This year (15 November) the traditional Slovenian breakfast was attended by the representatives of the Zagreb County, the Municipality of Brežice, Croatian Foreign Ministry, the beekeeping association, tourist workers and numerous journalists.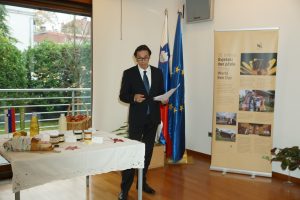 Upon Slovenian Food Day, Mayor of Brežice Ivan Molan has donated a basket of honey products and other locally produced delicacies to the Embassy.
By organising the traditional Slovenian breakfast, the Embassy aims at informing and raise the awareness of the general public about the importance of a breakfast, the benefits of the locally produced/Slovenian food, the significance of agriculture and beekeeping for food production and their environmental impact, the proper waste management arising from day-to-day activities and a rational packaging handling. The main properties of the locally produced food are freshness, richer taste, more vitamins, higher nutritional value and less additives.
The traditional Slovenian breakfast consists of milk, butter, bread, honey and apples.
In his address, Ambassador Vojislav Šuc emphasised that by buying food from local producers we help reduce the release of greenhouse gases due to shorter transport routes and ensure the sustainable use of food production regions. By choosing local food, we keep jobs in the countryside and raise the level of self‑sufficiency through the locally produced high-quality food, thus improving food security among the population.
Ambassador Šuc added that Slovenia pays special attention to its honey production and beekeeping as a mass professional or amateur activity based on a centuries-old tradition. Slovenia counts as many as four beekeepers per 1,000 inhabitants. In order to raise awareness about the importance of bees for maintaining natural balance and the existence of humankind, at the initiative of Slovenia the United Nations has declared 20 May as World Bee Day.
Since 2012, Slovenian Food Day is celebrated every third Friday in November. The project traditional Slovenian breakfast is the central event of Slovenian Food Day, first carried out in Slovenian kindergartens and primary schools in 2011, which has grown into an all-Slovenian event over the years.