Supernova Požega retail park is opened – a new shopping oasis for Slavonians
 Supernova Group in Požega opened its fifteenth shopping center in Croatia. Retail park Supernova Požega is located at the western entrance to Požega, at the address Zagrebačka 52, and for the first time brought famous brands to the city.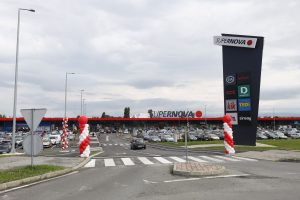 The new family shopping destination covers 11,000 square meters within which there are 15 shops and one restaurant, and 450 parking spaces are provided for visitors. In the new Supernova Group shopping center, visitors will find many well-known brands – Baby Center, C&A, CCC, Deichmann, dm, Galileo, KiK, NewYorker, Pepco, Sinsay, Sport Vision and Tedi, and during the summer  four more brands will open their shops – Top Shop, coffee bar Leggiero, Admiral automat club and the famous Italian food chain Eurospin.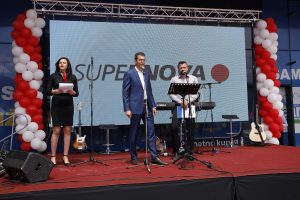 "The long-awaited opening of the new retail park is finally here and we are happy to bring new brands and an even more exciting shopping experience in Požega. The total value of the investment is 16 million euros, and it has created 300 new jobs. Požega has become the ninth city in Croatia in which we operate, and I believe that with this retail park we have created an offer for all its citizens, as well as the entire county", said Paul Merdzo, a board member of the Supernova Group.
 The opening attracted many Slavonians who enjoyed the entertaining music program, but also numerous discounts and promotions prepared by the merchants. The youngest enjoyed the animation program and face painting, while the older ones tried their hand at the prize game of the wheel of fortune with rich prizes from new brands.
The retail park will be open from Monday to Sunday, and all citizens of Požega are invited to the best shopping in the city. As part of the opening and welcome to all customers, many retailers have prepared special discounts and promotions until the end of the weekend.
The Supernova Group is an international company based in Graz and has so far invested more than 420 million euros in Croatia through various investment projects. In addition to the newly opened retail park Supernova Požega, the group manages the Supernova brands in the country (Zagreb Buzin, Garden Mall, Colosseum, Slavonski Brod, Zadar, Šibenik, Koprivnica, Sisak East, Sisak West, Varaždin, Karlovac) and in Zagreb Centar Cvjetni, Centar Kaptol and Branimir mingle mall.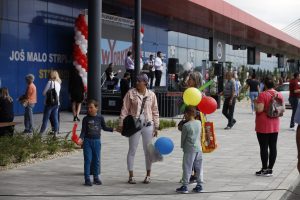 Source: SuperNova