At the headquarters of PBZ, an Electoral Assembly of the Association of Italian Entrepreneurs in Croatia was held in Zagreb.President Cvečić Bole, in his latest speech as President, presented the work of UTPUH to members, from which there is a clear growth, both in the number of members and in activities and finances.The Assembly has also elected new 9 members of the Steering Committee which will run the Association for next two years.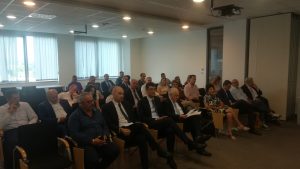 In addition to many members, the Honorary President, the Ambassador of Italy, NJ.E. Adriano Chiodi Cianfarani, Adviser Mr. Daniele Borrelli, Representative for the Economy, Mr. Gianluca Di Felice, Director of the ICE Italian Trade Agency, Ms. Margherita Lo Greco and Director of the Italian Institute for Culture, Ms. Stefania Del Bravo.
The Ambassador welcomed the work and development of the Association in his speech and emphasized that it was time to take further steps in development with the aim of even better business and cooperation in favour of Italian investors. The ambassador stressed that Italy, statistically, the other country in trade exchange with Croatia, and that there are always room for improvement. For all this, the Ambassador once again emphasized
support the work of the Association and wish all successful work.
The Steering Board has recently worked intensively on improving quality and for the purpose of achieving the goals, the Assembly adopted the proposal of the Management Board for the Registration of the Association into the Italian Croatian Chamber of Commerce, thus achieving a major jump in the quality of work.
Namely, the Italian 74 chambers in the world, and by launching the connection process, we enter the business network in 54 countries with more than 300,000 business contacts, and members offer a whole host of new services and opportunities.
The Assembly has also elected new 9 members of the Steering Committee which will run the Association for next two years :

. DE' LONGHI – PETER FERLUGA
2. CALZEDONIA – FRANCESCO RUFFOLI
3. INTESA SAN PAOLO – PBZ – ALESSIO CIONI
4. UNICREDIT – ZABA – ANDREA TIBERI
5. GENERALI OSIGURANJE – BRANKO MOČIBOB
6. WAM ADRIA – GIORGIO D'ASCENZO
7. ACCIAIERIE BERTOLLI SAFAU – ABS SISAK – MARCO CLEMENTE
8. OLIMPIAS TEKSTIL – BENETTON GROUP – AMBROGIO TRENTIN
9. ENERGY PELLETS – RAOUL CVEČIĆ BOLE
Also, was announced the event ITACRO BUSINESS REWARD 2018, which will be held in Croatia for the first time in September, organized by AIIC- UTPUH, co-financed by the City of Zagreb. We are proud to announce that the best Italian entrepreneurs will be awarded for the contribution and development of the economy, and the awards will be delivered by the Ambassador of Italy.
In the informal gathering after the Assembly, members and guests once again showed the synergy and friendship of our two countries, and AIIC -UTPUH became the reference point for entrepreneurs.