HOK President Dragutin Ranogajec said he has faith in the craftsmanship recovery and reminded of the necessity of partnerships of all those in the economy.  The Academy was also held under the auspices of President Kolinda Grabar – Kitarović.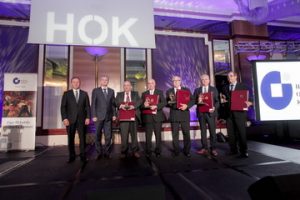 Each year, as part of the festive Academy, the most valuable craftsmen who, with their activity and cooperation with the Croatian Chamber of Trades and Crafts, have given an outstanding contribution to the development of crafts and crafts institutions, award awards and acknowledgments.
Also, as part of this important annual event, new masters are being promoted. The Croatian Chamber of Trades and Crafts has a prominent figure of 1,252 who passed the master's exams over the past year.
The Ministry of Economy, Entrepreneurship and Tradition has traditionally handed over the "Šegrt Hlapić" Prize, the best students, school and mentor to the Croatian Crafts Day. This year the Best School Award was awarded by the Mechanical School for Industrial and Crafts Professionals Rijeka, Božo Dujmović from Split, owner of service and trade fair "Merc and Dujmović", was awarded the best prize, and the prize awarded to students this year was awarded to Marija Grizelj , students of the Vinkovci Vocational School of Economics, the interest of the hairdresser and Miroslav Main from the Slatina Industrial and Crafts School, the occupation – plumber.
The aforementioned students received a special award, a three-year scholarship for professional study of Entrepreneurship Economics, presented by the School of Economics, Entrepreneurship and Management of Nikola Šubić Zrinski.
Awarding awards to craftsmen is part of events that are of particular importance for both organizers and graduates.
The Academy was also held under the auspices of President Kolinda Grabar – Kitarović this year.