Sweden has been very successfully implementing the triple helix model in which business, academia and government institutions work together on innovation, promoting change, and making sure that we can take on new things. We believe that good ideas should be considered regardless where they come from, Sweden or Croatia.
We are working very hard on developing different skills in Sweden but we are also aware that we cannot find them all in our country, so we are ready to search for them elsewhere in order to make better things together. This is how, in short, Niklas Johansson, the Swedish State Secretary to the Minister for Enterprise and Innovation, explains the interest of Swedish companies working in Croatia (and elsewhere) in establishing closer cooperation with the domestic economy and its business and talent resources.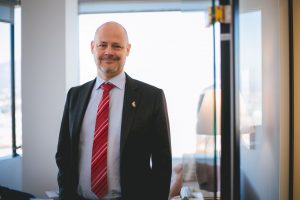 You're coming from a country that is here a synonym for an organized society and business, where everything is in accordance with the laws and rules. What is the secret of Sweden's success?
There are many important things (for Sweden's success) with transparency certainly being one of them. You know, we have many laws about transparency, which in my opinion, is necessary for an organized and functional society. However, it takes some time to build the system and establish trust in it.
Nowadays, a big part of Swedish success is making sure that good ideas should be considered regardless where they come from. We have very low power barriers between the decision makers and the rest of the society, and we are open to new ideas while management and work force often discuss things together in order to come to an agreement.
Trust is certainly crucial! Trust is an important part in creating a situation of trust, where everybody feels that they have something to contribute but also that we are all in this together.
From the Swedish point of view, what was necessary to create a conducive business environment?
One thing that entrepreneurs have to embrace is change and adapting to new developments.
We live in a market economy, and that means that competition has to be present all the time and we should all be open to international competition. Of course, that also means that some industries will lose, like the Swedish shipbuilding industry back in the 1970s when it became unproductive and couldn't compete anymore. Basically what happens is that you have to realize that this can and will influence some companies, individuals and maybe even some cities quite severely. And you have to make sure that you offer an opportunity for something else. You cannot shield everyone from this.
I have a great quote to illustrate what we are talking about. Back in the 1970es, when SKF, then one of the biggest companies in the word, was introducing the new machinery, the then president of the trade union at SKF, Göran Johansson, was asked by the journalist: "Aren't you afraid that this new technology will take jobs away from your members?" And his response was: "I'm not afraid of new ideas. I'm afraid of old technology that was terribly obsolete because if you don't upgrade all the time and if you don't make sure you're competitive, you will lose out."
Societies and governments have to be aware that we need these changes all the time and we therefore we need to create a society that embraces change. For those people who will not benefit from change, we try to make sure to help them to have a new education, or to find them a new job in some other sector. But we don't protect the companies. We rather help people and companies to change over time.
How much is Sweden investing in innovation? Why is innovation important?
Innovation and research have long been at the core of the Swedish economic and social development. They have boosted the strong international competitiveness of the Swedish enterprises. In Sweden, total investment in R&D constitutes 3.3% of the national GDP, of which the public stands for 1%.
If you look at how much we are investing in knowledge and innovation, we are ranking high internationally and in the EU. We invest from the business side and from the public side. We do it together in many different ways.
It's very important to look at how we can work together – government and private business – in order to make this work. We have been working for a long time on this kind of cooperation. This has been sustained and achieved by the very successful triple helix model in which business, academia and government institutions work together on innovation, promoting change, and making sure that we can take on new things.
We have a number of big, very successful multinational companies and we also have the most vibrant start-up scene, second only to Silicon Valley. Small companies need big companies, and vice versa. The small ones are more suitable for fast changes but the big ones have knowledge and infrastructure. There is a great innovative strength in start-ups but they may not dispose of sufficient finances or have an organisation in place. Also, sometimes you need to get more innovation in large companies and sometimes you have to do it in different ways.
The government's role is to detect the challenges that the society is facing and support the infrastructure to find the solutions for tomorrow.
Innovation can help to solve the challenges facing society and contribute to building a modern and sustainable society by combining knowledge in new ways or by using a completely new thinking. And in order to achieve that, we have to cooperate and co-create.
4.What is the role of science and business incubators in the Swedish society?
Basically, the Science Parks and incubators are important because they are the focal point for this kind of cooperation. These are the places where the Triple Helix segments work together. Also, cross-sectoral cooperation is becoming increasingly important.
For instance, one sector can have a really great idea and when you mix different disciplines, you realize that idea can be used in other businesses.
For example, the National Strategic Innovation Programme brings all stakeholders together to facilitate the next generation mobility services, based on connected and automated vehicles.
We have 4G Internet connection in and self-driving automated vehicles in the mines. A digital wireless mine with autonomous vehicles and no people underground might sound like science fiction but it is becoming a reality that is saving energy, peoples´ lives and increasing production.
So, what you need is to see ideas that people in different academic disciplines get but you also have to look how the industry can use this idea, because if you don't put research to use, it is only research and nothing else. We do need to shorten the time between discovering new ideas and getting new research into a marketplace.
Some of the science parks, like Lindholmen in Gothenburg, have been especially good at creating an environment where large companies meet small, where they spur innovation and inspire our industry, while adapting to global trends. Together with the industry, we are finding ways to help with financing.
We know that competition is fierce and although we are at the forefront of innovation, most research and development takes place outside our small country. This is why we are always putting effort into searching for areas of international cooperation.
What is digital transformation? Do you think that digital transformation is possible also for counties that are economically weaker than Sweden?
I actually think that digital transformation is a great opportunity for countries, also for those which might be not financially advanced as Sweden. This is due to the fact that the physical economy has a lot of fixed investments; while once you have invested in digital transformation, it becomes cheaper.
Sometimes you have systems which have been working in a certain way for a very long time. It is difficult to break them down, or to change them into something else.
For example, Sweden has the highest number of robots in the world, but at the same time, the highest employment in Europe. That shows that robots are not taking jobs from people.
When it comes to digital transformation, I think that it should be part of the societies and I know that you know this is a great opportunity. We can be somebody here, we can do something great and we should recognize that. One of the great things about this is to be involved whether you feel threatened or not. You have to put pressure on incumbents. You cannot let the existing structure just remain there. They are not there forever. They shouldn't be let alone and say that they are sacred in some way. Everything has to be questioned to some extent. Well, maybe we should do it in another way. You have to be ready to pick up on these great new ideas that people have and see that this will be more productive and more successful.
6. What is the purpose of your visit to Zagreb? Who are you going to meet with?
The purpose of my visit is, of course, to promote the bilateral trade relations between our countries. Croatia has been an important trading partner to Sweden for quite some time. Today, we have over 50 Swedish companies operating in the country (with companies like ABB, Astra Zeneca, Bisnode, IKEA, H&M, Ericsson Nikola Tesla, Oriflame, Securitas, SAAB and Tele2) and our bilateral trade is growing steadily.
I will also be visiting Ericsson Nikola Tesla and I will meet with the Minister of Education and Science, the Minister of Economy and the Prime Minister. We want boost the trade relations between our countries.
Also, considering the fact that the UK is leaving the European Union, we need to make more connections between the different countries in a global economy.
International trade and open and free trade are extremely important to Sweden. We know that that creates better societies and more jobs. We want to join forces with others to create the future. We don't believe in exclusion or sheltering ourselves; we believe in collaboration and doing this together.
Could you tell us more about the Swedish Business Club, which was recently established in Croatia? What is the goal of this Club?
We believe in international supply chain. You cannot do everything in your own country. It is extremely important that we talk about international markets.
When I meet with Swedish businesses in Sweden the main problem they have today is that they need more skilled employees. I know that some of these companies are very interested in the skills that can be found in Croatia. The Swedish missions abroad have an important job of detect skills, that are in demand in the Swedish industry, in the local markets, while promoting not only export of goods but also attract talent.
This morning I attended the inauguration of the Swedish Business Club in Croatia, an initiative that was originally discussed between the Swedish Prime Minister and the Croatian President last year during the Croatian State visit to Sweden. Having the opportunity to be here and see it become a reality is really rewarding.
The goal of the Swedish Business Club is to boost the exports from Sweden to Croatia, while widening the economic partnership and strengthening the cooperation with the Croatian business environment.
I warmly welcome the establishment of the Swedish Business Club as I see room for more Swedish companies to come to the Croatian market, to the mutual benefit of both our countries.