Turkish Airlines, a global airline company, presented 20 years of cooperation with the Croatian market, its successes, innovations and future goals.
The event was attended by advisers to the President of the Republic of Croatia Kolinda Grabar – Kitarović, Tourism Minister Gari Cappelli, Director of the Zagreb Tourist Board Martina Bienenfeld and many others. Turkish Airlines has presented itself as a leading airline in the global aviation community, highlighting a significant number of winning awards that boost this status.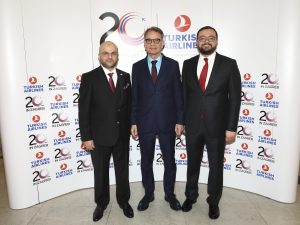 Superior quality service is a trademark of this company and stands out from its competitors in the market, and the goal of improved strategy is to develop innovation at every stage of the journey and to offer pleasant surprises that will make travelers feel special and appreciated during their travels.
"It is my pleasure that after 20 years from the opening of the representative office in Zagreb we can boast of excellent cooperation with Croatia. Two years ago, we started with flights to Dubrovnik throughout the year, and our goal is to open even more destinations in Croatia that we will connect with the whole world and attract tourists. Aware of the great competition in the aerospace industry, we are ready to meet many of the challenges we are expecting and we are constantly working on improving our services to fully resume our flawless offer for our passengers, "said Director of Turkish Airlines for Croatia, Mr. Ugur Cantimur.
Cantimur met with the company's future projects, offers and goals by speaking of a new Istanbul airport that will become a new connecting point for Turkish Airlines. At the end of the first phase of construction, as Mr Cantimur notes, is expected on October 29, 2018, and includes the construction of the first terminal area of ​​1.3 million m2 that will provide services for 90 million passengers annually. "At the end of all phases, the airport will have three terminals, six pistes and an annual capacity of up to 200 million passengers," Ugur Cantimur continued the co-operation of Turkish Airlines with Croatia, which started with two and now has fourteen flights a week.
Flights to over 300 international destinations in more than 120 countries, a series of large aircraft orders and continually expanding the network, Turkish Airlines has greatly expanded its position in the global aviation community. In addition, with its expanded fleet, Istanbul as a connecting point and rich cultural heritage and outstanding service, this airline company offers the most extensive network in the world that raises the traveler's experience to a new level.