We are racing against time and we are already losing – world leaders need to take a stand and lead the way in one of our most crucial environmental challenges ever.
OACM is a conglomerate of the United Nations that has come together in close collaboration with global organisations and global corporations, and committed their efforts toward taking specific actions and measures to minimise the current concentration of plastic and marine debris in the oceans, lakes and rivers by creating and expanding plastic-free marine areas (so-called CSMA (Certified Safe Marine Areas) – physically cleaned marine areas beneath and the above the surface) which are being monitored, inspected and additionally cleaned every year, said Kristijan Curović for Diplomacy&Commerce. The OACM conglomerate was initiated for the first time 4 years ago but before that it was known as GUWAA – Global Under Water Awareness Association – an NGO with roots going back to 2008 when it was started by passionate divers.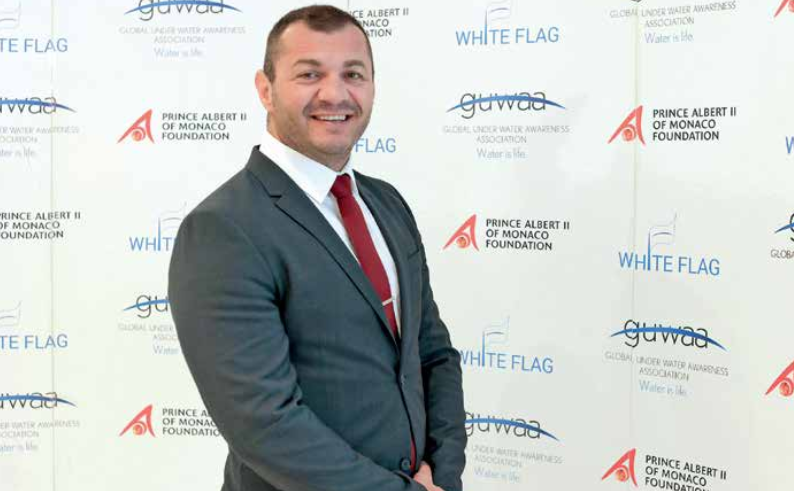 What is your background and motive to serve as the current President of OACM and why did you choose this profession?
– I'm a professional commercial diver educated in Oslo, Norway (Fagerstrand), former freediving champion and PADI Dive Instructor who initiated the GUWAA NGO back in 2008 and started to clean the Croatian and Balkan region's coastline with a group of highly trained professional divers, navy seals, divers from anti-terrorist police units and other passionate individuals who shared the same love and passion for the ocean. After I finished my freediving career in 2005 after my last record (when I became the first free diver in the world to free dive on the North Pole) – by setting the world record at the depth of 51 meters, it become a natural choice to continue to work closely in and with the ocean. I feel that the ocean has shaped my life, my character, my very own essence and making the decision to use the rest of my life to save the oceans was my way of giving something back in return. The ocean made me a loyal person and loyalty, according to me, is one of the most valuable assets of a person.
What was the main challenge in building the organisation and what kind of a support did you have at the very beginning?
– When I started I didn't know what to expect, first major setback was when I went bankrupt after a deal with the current government institution went sour due to the financial crisis at that time, which hit the entire EU and most parts of the world. Back then, nobody spoke or mentioned the ocean pollution problem and there were no active social network platforms, I was completely alone with an idea nobody wanted to hear about and we had no financial support. We used our own hard-earned money to clean the Croatian coastline but we achieved remarkable results, we managed to pull 50 tonnes of marine debris out of the water by hand. Developing the organisation at that time was no easy task and we needed to get international support and some VIPs to start. At that time, I managed to get support from the Croatian President Stjepan Mesic and from there we managed to get to the now former CEO of Formula 1 Bernie Ecclestone and HSH Prince Albert of Monaco, where we launched two projects in 2012 and 2013.
How did you manage to open so many doors in such high level governmental structures, featuring royal families, Presidents and Prime Ministers?
– It's hard to achieve that kind of support, the credibility has to be intact, the project has to be tangible and you need to work hard to not make any procedural errors or show any weaknesses and we had a big one: we were poor, without money, but the idea and the system were good and we had to act strong. All the major things in the beginning we financed by ourselves, except the event with HSH Prince Albert for which we received support from Bernie Ecclestone. But when you get one President and have done a great job, you create credibility and status, and after that it's much easier and one by one you get where we are now.
Why do you think it's globally important for heads of states to take the lead in solving the problem with ocean pollution and how does your whiteflagfortheoceans.com campaign reflect on the global public?
The heads of states are responsible for leading the nations and setting an example for others and they are very aware in which direction the world needs to develop. During our starting phase, we spent so much unnecessary time with low level politicians and structures and we never got anywhere, which shows they don't care about what's going on with ocean pollution globally or locally.
Every year, more than eight million tons of plastic end up in the world's seas and oceans. It is deadly not only to the flora but also to the fauna that lives in the oceans. It is a frightening fact that plastic was found in 60 percent of seabirds and in 100 percent of sea turtles that replaced them for food, and it is assumed that 100 thousand tons of plastic "swim" in fish. Researches showed that once in the ocean, plastic decomposes very slowly, breaking down into tiny pieces known as micro plastics that can be incredibly damaging to sea life. 80% of plastic in our oceans is from land sources.
When did you first approach the Canadian Government and how important is it for the OACM conglomerate to start collaborating with G7 nations, when did you receive a personal support for OACM from Prime Minister Justin Trudeau?
– First I approached the Canadian Minister Dominic LeBlanc and we spoke shortly during the Our Ocean Conference in Malta, and later on, I addressed the Prime Minister Justin Trudeau directly with an official letter. After a few months, I got a phone call from the Canadian Embassy by Canadian Ambassador Dan Maksymiuk, where he invited me to the Embassy to give me the letter from Trudeau personally as requested by the Prime Minister. This was in 2018, before the G7 Summit in Quebec.
Is USA on the OACM list for nation membership and what is your current plan for the certifications of the US coastline?
– Yes, we have already engaged in some talks with the US State Department and I was personally in the UN £ years ago regarding the first US White Flag planned for New York area by the DEP – Department of Environmental Protection. We will plan this for next year, and this year's targets are the small island countries with highly developed tourism industry and the EU.
Do you plan to be present at the G7 Summit in Camp David in the US this year and how will you approach this collaboration?
We have already initiated a plan but the outcome is very uncertain at the moment, which is one of the reasons we initiated a plan for all G7 nations who have committed to the plastic pollution problem during the G7 meeting in Quebec, Canada, as part of their global initiative. Last year we failed to be present at the G7 meeting in Biarritz in France as we acted too late in our organisation.
What is the OACM SOS CP, why is it financially sustainable?
Ocean Alliance Conservation Member Sustainable Ocean Solutions Conservancy Program (OACM SOS CP) is a program for the protection of oceans, lakes and rivers which includes the physical cleaning, protection, preservation, education and promotion of environmental system which gets integrated into governmental or corporate sectors. It reduces the amount of the plastic and marine debris in the ocean areas where the program is implemented and it is financially sustainable because it creates a better global position of the country on the global tourism industry market so they can be more competitive and increase the economic growth of national tourism industry. It provides a more effective natural resource management and can save the Government's financial expenses for global promotion through our GEPN system.
Why are so many nations interested in integrating your system in their governmental infrastructure?
– The integration of OACM SOS CP is governmentally friendly and gets implemented easily, giving immediate tangible results based on specific measures and solutions. The unification of the system will make it very effective and create an incredible communication platform between the governments which will allow the system to evolve and deliver better results. It is oriented toward the global tourism industry and paints a clear picture for the heads of states that nations can't develop or grow in a sustainable manner without protecting their main natural resources for the next generation.
How are the governmental funds committed to OACM certification of their coastlines used?
– When a government commits its national budget for the coastline certification and creation of CSMA Certified Safe Marine Areas, the budget stays under the government's control, about only 35 to 40 % goes to OACM for administration and operational fees while the rest of the funds circulate in their own economy in local communities where the certifications are in progress. The whole process is transparent.
OACM represents a good example of blue economy, what exactly does this refer to?
OACM's long-term sustainability principles have built a unique global communication platform dependent on collaboration between governments, corporations and world organizations. The core entrepreneurship, strength and long-term sustainability of the OACM GEPN system secure all of stakeholders' equality in viable, long- term economic growth. It provides socio-economic benefits that are fairly distributed, including stable job opportunities and income-earning opportunities, social services to host communities, it contributes to maintaining essential ecological processes, and helps to conserve natural heritage and biodiversity.
GEPN (Global Environmental Promotion System) is OACM's internal communication system to promote nation members, organisations and corporations – how does this system work?
– Global Environment Promotion Network is a communication platform system developed to promote global environmental initiatives conducted globally by OACM members. It is today's only existing sustainable tool for reaching a global audience worldwide. Focusing on promoting OACM member nation initiatives, programs and conducted global operations, it supports the Ocean Heritage Act to physically reduce the current amount of plastic and marine debris. It also involves the presentation of the OACM member nations and organisations on major summits, special fairs and conferences as well as in the digital media.
Why is the global collaboration with the UN important for OACM and how far have you come in the process before signing the official contract?
We have initiated official negotiations with UN in Amman, Jordan, and we were due to sign the first collaboration contract in April but due to the corona crisis it was postponed. UN is important for the OACM as we share the same code of ethics and values on a global level.
In how many UN organisations can OACM SOS CP system be integrated, and how will it impact/reduce the current content of the plastic and marine debris in the ocean?
– OACM SOS CP system is implementable in many of the other UN organisations such as UNWTO, UNEP, UNDP, UNESCO and UNEMG. Collaboration with the UN will enable a much more efficient global plastic extraction program and faster integration in governments worldwide. We must not forget that we are racing against time and we are still losing at the moment – the speed and efficiency of integration will be crucial for the oceans.
When did the former UN WTO Secretary General Dr Taleb Rifai join the OACM and what is his responsibility within the conglomerate?
Dr Taleb Rifai joined us in March of 2020. His contribution to OACM and our global plastic extraction program can't even begin to be described – we have achieved some incredible breakthroughs in many nations and world organisations which will enable us to be more effective and efficient. On a personal level, Dr Taleb Rifai is one of the kindest and most loyal people I have ever met, and his professional way of approaching the ocean pollution problem is impressive and daring, and he provides us a way to a great global network for OACM to approach and act upon.
How many more past UN secretary-generals are joining and why do you generally recruit high level experienced government officials including the former President?
– We have several former UN secretary-generals who are interested in joining the OACM but we are waiting for them to sign a contract and then we will officially communicate the turn of events through our communication network and mainstream media. We are recruiting former high level government officials because we operate only on a high level with governments in different parts of the world. They have the necessary diplomatic experience and inside information on how governments think and operate.
How many organisation members do you have and what functions do they have within the organisation?
– We have close to a hundred individuals spread across our 11 departments and we are expecting that number to grow up to 300 in the next 4 months as we are expecting a lot of high ranked CEOs and government officials from EU regions to join our ranks.
What is the Ocean Heritage ACT and why do you consider all divers around the world to be ocean ambassadors?
Ocean Heritage ACT is an OACM pledge which refers to all nations worldwide, corporations and world organisations to join in saving the ocean by implementing effective measures and solutions based on tangible results and not just on raising awareness. The divers are considered to be ocean's ambassadors, as stated by the President, as they are the only ones who can actually see the damage that has been caused to the oceans, lakes and rivers worldwide. They are also the ones who have initiated the world's first ocean clean up.
What is the current state of the Plastic Ocean Summit scheduled for April next year?
Due to the Corona virus, the Summit will be delayed from April 2021 to November 2021, but the official decision has not been reached yet as we are waiting to sign the official contract with the UN – who we want to have officially as OACM partner during the summit. I expect that at the summit we will have representatives from at least 50 countries that will already implement our ocean cleaning system by November 2021, so they will be able to tell their experiences and explain why they decided on OACM.