The Croatian Chamber of Economy got a new/old president in early October. Luka Burilović will remain at the head of the Chamber, and this will be his third term. In challenging times for the economy, he shares with Diplomacy&Commerce his expectations for the next year, and sums up the results from the current year.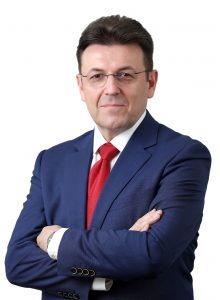 1.How would you describe the business year coming to an end? It seems that the economy is recovering after the coronavirus, albeit slower than we thought? This year was marked by a dynamic recovery – primarily thanks to a good tourist season, but also by economic challenges we have not yet encountered. The current return of the pandemic, disturbances in global supply chains and the rising prices of energy and certain raw materials are creating great uncertainty on a global level. Despite that, the planned GDP growth is around 9 per cent, which is a very high growth rate given the circumstances. We will still have to monitor the situation on a global market together and be very flexible – this primarily refers to entrepreneurs, but also to contractors.
2.In expectation of 2022, what do you see as the biggest challenges for the economy and how to solve them? What do you expect in the period ahead in that regard?
— The pandemic will continue to be our biggest challenge. If the situation with the coronavirus remains relatively stable, I expect positive trends to continue. The indicators on which I base my optimism are the strong recovery of export of goods, tourism and further growth and development of the IT sector. I must also point out the recovery of consumption, which is an extremely important component of domestic demand and GDP trends. Of course, the forecasts for 2022 should certainly include EU funds available from the previous and new financial perspective, further implementation of reforms, especially those defined by the National Recovery and Resilience Plan and accession to the eurozone.
3.How is CCE adjusting to these constant changes in the economy?
— CCE laid a strong foundation for the changes ahead. Thanks to the Digital Chamber, we are among the first digitalized institutions in Croatia with more than 50,000 registered users. On the one hand, the internal processes and services of the Chamber have been digitalized, while on the other hand, members' access has been personalized through modern tools and e-services tailored to them. We will continue to work on improving business processes so that we can perform our fundamental task – advocating and promoting the interests of the Croatian economy at home and abroad – as efficiently as possible.