At a Gala dinner at the Westin Hotel in Zagreb, the German-Croatian Chamber of Industry and Commerce celebrated its 20th birthday. The event was attended by more than 260 members of the Chamber, as well as dignitaries from the economic and political life of Croatia and Germany.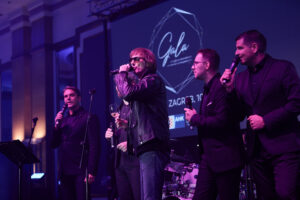 At the ceremonial part of the event, held on November 10, the importance of the German-Croatian Chamber, which represents the economic interests of companies and has been acting as a ˝bridge˝ between Germany and Croatia for two decades, was highlighted. Among the guests were numerous representatives of the business and political community – the German Ambassador to Croatia Dr. Christian Hellbach, the Vice President of the Association of German Chambers of Industry and Commerce (DIHK) Dr. Volker Treier and the Government's envoy Hrvoje Bujanović.

"As Germans, we are used to the concept of 'Wende'. We are currently at the crossroads of multiple transformations – the Mobilitätswende, which deals with changes in mobility; Migrationswende, changes in migration policies; Digitalisierungswende, facing the revolution of digitization – all of this demands our attention at the same time. Moreover, there is an urgent need for a Handelspolitikwende, a shift in trade policy back towards free trade and away from protectionism. The Chambers were originally founded with the fundamental goal of promoting free trade, open markets and economic cooperation," said Dr. Volker Treier. President of the German-Croatian Chamber, Marjan Vučak, referred to the importance of the network in the economic strengthening of Croatia: "For the last 20 years, our goal has been to promote Croatia as an attractive location, not only for German investors, but also for investors from all over the world. Despite the challenges that all face, the support of AHK to its members remains strong and the most important pillar of our work."
The highlight of the event was the awarding of the second prize of the German-Croatian economy for sustainable development. The award was won by Kaufland Hrvatska k.d. for its three projects: Kaufland school of fruits and vegetables, Posidonia oceanica and Food Waste. The second place was won by the company Auto Hrvatska d.d., and the third place went to the company ZOV d.o.o..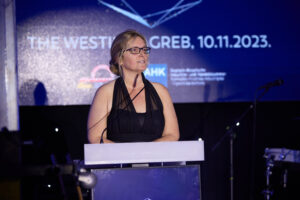 After the ceremonial speeches, there was a performance by the Four Tenors with a surprise guest. Punk rock legend Davor Gobac from the Psihomodo pop band sang his greatest hit "Frida" together with the Four Tenors.
Since 2003, the German-Croatian Chamber of Industry and Commerce gathers companies from German, Croatian and international business circles and offers numerous services for starting a business and entering the market. Today, the German-Croatian Chamber is the largest bilateral business organization in Croatia, representing almost 350 companies.